Growing up, I wasn't blessed with flawless skin. I went through a stage of really struggling with teenage breakouts, especially on my t-zone. To this day, this is still my area of concern especially during the time of the month. 
I would turn to magazines for skincare solutions and waste all of my "spends" trialling product after product before coming to the frustrating conclusion that nothing worked. Back then, I was young and naive to the media's marketing strategies. I would genuinely believe that the featured products were actually used by celebrities mentioned to achieve their clear complexion… But then I realised that dermatologists, botox and Photoshop existed. 
So, without further adieu, I have finally found a skincare routine that works for me so I thought I'd share it to those who would like to try something new! I have been using these products religiously morning and night for a few years now and can't complain. 
Morning & Night
Decléor Aroma Cleanse
£32, decleor.co.uk
I start by using a small amount of the Decléor cleanser to wash my face. The creamy texture turns foam-like when in contact with water. The papaya extract provides a gentle exfoliation to the face to ensure there are no irritations for sensitive skin.
I then pat my face dry with a clean towel in preparation for the second step.
SkinMatrixHD Sensitive Micellar Pads
£27.50, skinmatrixhd.com
My skin is quite sensitive which means the majority of products in the past have prompted redness, breakouts and irritation. This is where the Skin Matrix HD Micellar Pads come to the rescue!
The combination of liquorice root and chamomile creates a powerful formula to delicately strip away the most stubborn dirt and unwanted oil from your face. All you have to do is take one of the pads (morning and night) and use in a circular motion on the face. 
You would think that after washing your face, your face is clean. Wrong… The proof is on the pad! I remember the first time I used one and being gobsmacked to the amount of dirt it picked up. I also love how easy it is to banish my waterproof mascara which is generally the most frustrating and time-consuming area to remove.  My skincare routine would be incomplete without these, as for me, this is the defining step that leaves my face feeling fresh, clean and hydrated. 
If sensitivity isn't your skin concern, you can also get the pads in 2 other variants, hydrating or exfoliating. All of them are alcohol, fragrance, paraben and detergent free and therefore won't disturb your skin's natural PH balance! 
Mario Badescu Facial Spray with Aloe Herbs and Rosewater
£7-11, beautybay.com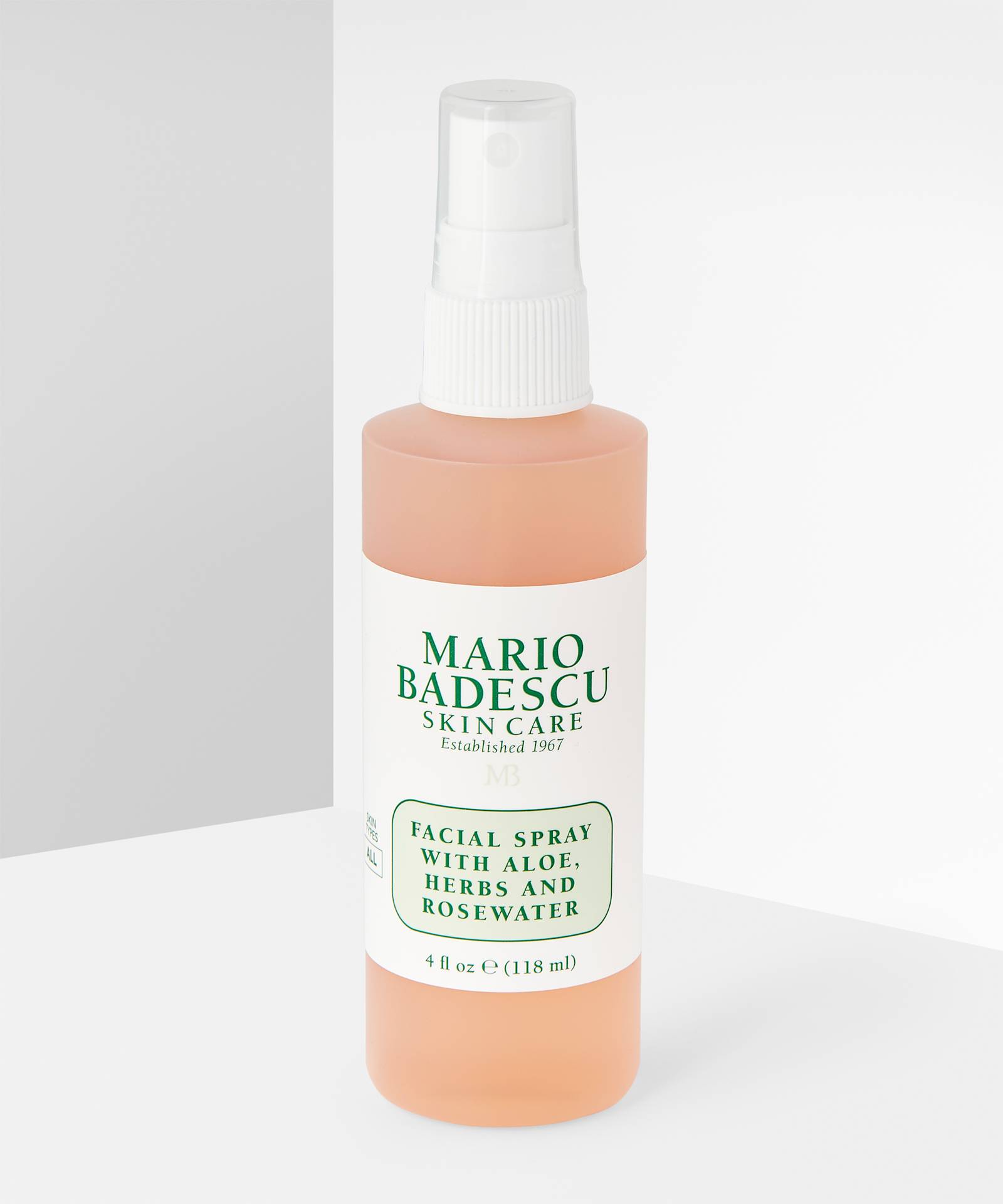 Before the face creams, I spritz my face with the Mario Badescu face spray. The combination of natural herbal extracts and rosewater acts as a hydration booster and it smells amazing! It can also be used on the go to give your face an instant refresh throughout the day.
Kiehl's Creamy Eye Treatment with Avocado
£26-37, kiehls.co.uk
Eye-cream is one of the most underrated skincare products. The skin around your eyes is extremely sensitive; this is where fine lines and dark circles are likely to appear first. By keeping hydrated and applying a decent eye cream daily, you are delaying the process.
This is where the Kiehl's Creamy Eye Treatment comes in; the thick formula penetrates deep into the layer of skin, enriching the eye area with that much-needed moisture. It also acts as a barrier for your concealer, as sometimes you may find that it sets strangely under the eye if dehydrated.
Kiehl's Ultra Facial Cream
£16-45, kiehls.co.uk
Last, but certainly not least. I always found a lot of face creams to be too greasy for my skin, hence why I broke out. A face cream was the biggest trial and error area for me as I just couldn't seem to get it quite right. Some were too oily while others didn't make a difference whatsoever.
It wasn't until I discovered the wonders of the Kiehl's eye cream, that I thought I would explore more of their range. I came across amazing reviews for the Ultra Facial Cream and thought I'd give it a go. It is formulated for all skin types and boasts over a thousand 5* reviews on the site. It promises to leave the skin 2.3X more hydrated (very specific, I know) and it sticks to its word. I have been using this religiously for around two years and haven't looked back.  
2-3 Times a Week
 Kiehl's Epidermal Re-Texturizing Micro-Dermabrasion
£41, kiehls.co.uk
I always find that exfoliators sell dreams. These are the products that claim to give you a five-star spa treatment, but in my experience, leave you blotchy and red if you don't do your research.
Hands-down, this is the best exfoliator I have ever used; I do believe you get what you pay for.  Yes, it's slightly pricey, but a little goes a long way and it does what it says on the tin. This "highly re-texturising micro-dermabrasion"  treatment effortlessly removes dead skin cells, leaving an untouched layer of fresh skin.
Kiehl's Rare Earth Deep Pore Cleansing Masque
£26, kiehls.co.uk
Following the exfoliating treatment, I like to soothe my skin with the Kiehl's cleansing mask. At this stage, I don't think there is any possibility of stubborn dirt as my skin has been through every process but I feel that a face mask is a relaxing treatment to enjoy in the evenings. This Kiehl's Rare Earth one leaves my skin feeling so smooth by minimising pores.